Welcome to Sweet Hearts Romance Books
Sweet Hearts Romance Books is your one-stop shop for classic eighties and nineties teen romance books, with just a few from the noughties as well.
Sweet Hearts is the home of popular 1980s series such as Sweet Dreams, Wildfire, First Love From Silhouette and Crosswinds & Keepsake. Here you will also find series that can be quite hard to find.
And let's not forget the 1990s, with series such as Freshman Dorm, Sunset, Totally Hot & Love Stories, to name a few.
Home grown Australian teen romance is where many of our romance writers honed their craft. Dolly Fiction and it's successor Paradise Point are the most well known. More Australian series include Bantam Wildflowers, Hot Pursuit and the Heartbreak High books.

Quick News
10th Jan 2015. Apologies to all again for being missing in action for so long.

After some health & family issues, I have been working on the new website & have progressed a long way further than with eaarlier versions of it. The plan is to finish the basics of it in the next week & start transferring listings from here over to the new site. As categories on here "go dark" /disappear that will be a clue that progress is being made. Closing Sweet Hearts for a couple of weeks will need to be done so I can work on moving the bigger categories and ironing out any glitches. The new site will have better features than this one, eventually. It will be basic at first, although that basic is still better than this version, and then as more categories are stocked & re-stocked I will add the extra features & make tweaks. And it will be very mobile device friendly.

Payment Methods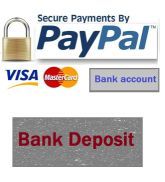 Cheque (Australia Only)