Welcome to Sweet Hearts Romance Books
Sweet Hearts Romance Books is your one-stop shop for classic eighties and nineties teen romance books, with just a few from the noughties as well.
Sweet Hearts is the home of popular 1980s series such as Sweet Dreams, Wildfire, First Love From Silhouette and Crosswinds & Keepsake. Here you will also find series that can be quite hard to find.
And let's not forget the 1990s, with series such as Freshman Dorm, Sunset, Totally Hot & Love Stories, to name a few.
Home grown Australian teen romance is where many of our romance writers honed their craft. Dolly Fiction and it's successor Paradise Point are the most well known. More Australian series include Bantam Wildflowers, Hot Pursuit and the Heartbreak High books.

Quick News
22nd August 2015. Plans were progressing very well for having the new site up & running in the next few days. Note that word WERE. Being winter my first cold for the year became a stinker of a chest infection that I got very very sick with, and am still in the shaking it off stage. (Isn't there a song....) Around 400 photos of Sweet Dreams books are done & I have started listing those books. I am hoping for 2 to 3 weeks until the new site is open & this one closed. After that the books listing on this old site will gradually be listed on the new one.

Payment Methods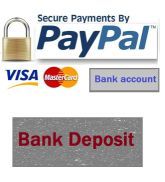 Cheque (Australia Only)